The Survivor and the Translator: a solo theatre piece about not having experienced the Holocaust, by a daughter of concentration camp survivors
 a video screening of Leeny Sack's critically acclaimed 1980 production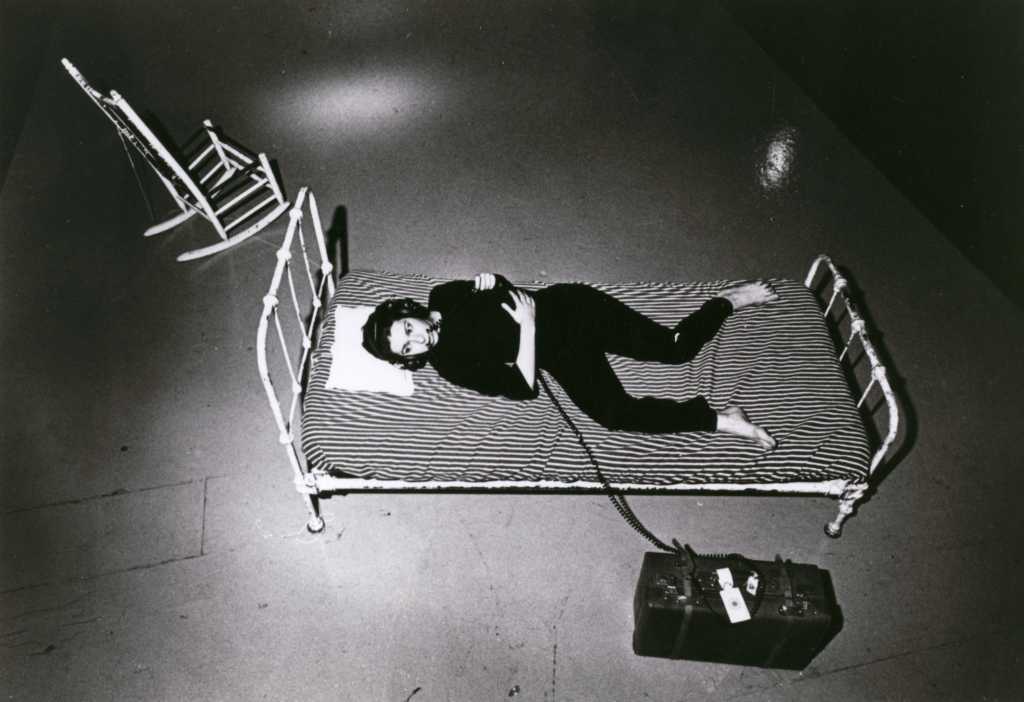 Thursday, October 11th, 7:00pm
Followed by a discussion with the artist
at The Cherry Artspace, 102 Cherry Street, Ithaca NY 14850
50% of ticket sales will benefit the ACLU*
Tickets range from $10 to $50
"Both intensely private and profoundly communal"
-Carol Martin, Theatre of the Real
"Leeny Sack communicates the unspeakable"
–The Soho News
About the Work:
Leeny Sack's autobiographical one-woman show, The Survivor and the Translator […] stages an attempt to recuperate language and experience through acts of translation […] Sack's performance is part of the tradition of recovering, remembering, and recounting Holocaust narratives. Her performance [is] shaped by the tension between an experience that cannot be assimilated and words that defy translation. […] Sack's story is personal to Sack's family, but also to millions of other families.
-Carol Martin, Theatre of the Real
The Survivor and the Translator premiered at the Performing Garage in NYC (1980) and toured internationally. The text was published in Lenora Champagne's anthology, OUT FROM UNDER: Texts by Women Performance Artists, and in Robert Skloot's The Theatre of the Holocaust, Volume 2. Her biography appears in Holocaust Literature: An Encyclopedia of Writers and Their Work. 
About the Artist
Leeny Sack is an interdisciplinary performance artist, originator of The Performative Self™, and certified Master Teacher of Kinetic Awareness®. She was a member of The Performance Group, the renowned experimental theater company founded by Richard Schechner, was on the faculty of NYU's Experimental Theater Wing, Naropa University's MFA program in Contemporary Performance, and was co-founder and artistic director of Pangea Farm Retreat Center. Sack has taught and performed throughout the U.S., Europe, and in Asia at venues including the Venice Biennale, The Edinburgh Festival, The American Dance Festival, and the Whitney Museum of American Art.
For information about Leeny Sack and upcoming workshops in The Performative Self™ and autobiographically-derived solo performance, visit http://www.leenysack.com  and  http://thecherry.org
*About the ACLU
The American Civil Liberties Union (ACLU), is a nonprofit and non-partisan organization whose stated mission is "to defend and preserve the individual rights and liberties guaranteed to every person in this country by the Constitution and laws of the United States.
Freedom of speech, of the press, of association, of assembly and petition— this set of guarantees, protected by the First Amendment, comprises what we refer to as freedom of expression. The Supreme Court has written that this freedom is "the matrix, the indispensable condition of nearly every other form of freedom." Without it, other fundamental rights, like the right to vote, would wither and die."
https://www.aclu.org/other/freedom-expression-aclu-position-paper
photo courtesy of Stephen Siegel.