May 26-Jun 4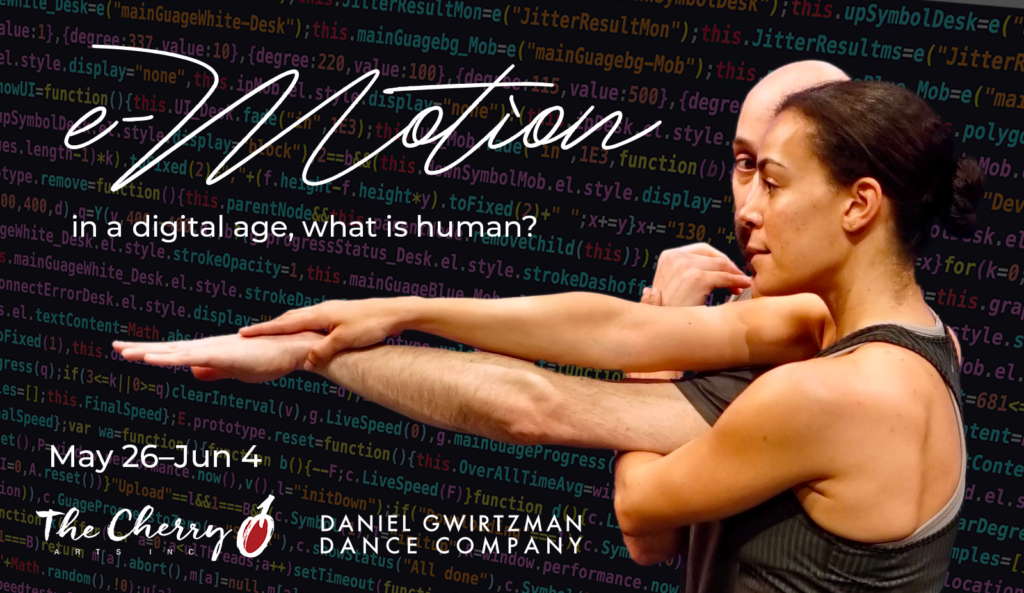 Our final movement-based collaboration of the season is conceived by two award-winning artists, Cherry Collective playwright Saviana Stanescu and choreographer Daniel Gwirtzman. The story they have developed explores artificial intelligence, neuroscience, and what it means to be human, taking form through Stanescu's mind-bending text and Gwirtzman's intricate choreography. The resulting work is a hybridized form where dance meets theater.
The piece is an extended duet performed by dancers Sarah Hillmon and Daniel of the NYC-based Daniel Gwirtzman Dance Company. The primarily textual score will be augmented by music composed by DGDC's longtime musical collaborator, the late Jeff Story. So-Yeon Yoon, Cornell Associate Professor of human centered design, is creating data visualizations for the work, capturing the performers' brainwaves and manipulating them to produce video imagery. The intermissionless, program-length dance will be presented onstage at The Cherry Artspace and online via livestream.
The narrative, accessible piece depicts a creator and a product. Which is which? Referencing Mary Shelley's Frankenstein, this researcher is a neuroscientist, and the narrative follows the big launch of her AI "creature" for scholarly and public consumption. What could go wrong? ChatGPT has been used in the initial stages of script creation, with responses generated through a series of questions that will be utilized in an interactive component with the audience.
View the team notes and bios here
More from Daniel Gwirtzman Dance Company
Tickets:
in-person – $35 regular admission, $25 seniors, $15 students
live-stream – $20
+ ticket vendor service fees
Performance Times
Fri May 26, 7:30 pm //Sat May 27, 7:30 pm // Sun May 28, 2:00 pm
Fri Jun 2, 7:30 pm //Sat Jun 3, 7:30 pm // Sun Jun 4, 2:00 pm
e-Motion is co-produced by Donald Spector & Stacia Zabusky and sponsored by

Their support has made this production possible. We're grateful for the additional supporters who keep the Cherry running.