APRIL 7, 2022 – APRIL 30, 2022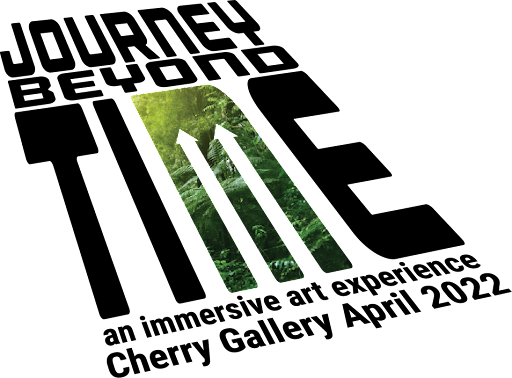 Arriving April 7th, get ready for an extreme-fun experience! The BEYOND's Journey Beyond Time at the Cherry Gallery will extend far beyond their Commons debut and transport you and your family into fantastic realms.
The 10,000 visitors who experienced the BEYOND collective's long-running installation in the Center Ithaca have an idea what to expect… a 12-foot tall rideable unicorn, an infinite fluorescent forest, an augmented-reality sandbox, custom art-video games, and much more!
Take a leap of imagination into the ancient past and far future of the Finger Lakes Region. Travel to places where time no longer has meaning. Enter the Professor's Time Blender and partake of its fantastical pseudo-science magic, leading you to question who you are, where you are, and even when you are.
Is it safe? Is it family-friendly, educational and informative? No doubt. But Journey Beyond Time is also an awe-inspiring, interactive, and immersive art experience that you won't forget, no matter how far in time you journey to Be Now Here.
Inspired by the success of interactive art spaces around the country, this immersive installation gives guests an opportunity to play and engage in multi-sensory ways, and contribute to community-made creations during their visit! Featuring more than 20 contributing artists from all backgrounds, this interactive exhibit will be open to the public by donation. Awaken the artist in you with BEYOND!
ABOUT THE ARTISTS
The BEYOND Collective formed in 2019 and has had more than 30 contributing artists from all backgrounds. BEYOND's Art Pop-Up Interactive, Immersive Art Installations are fun and engaging experiences for all ages. The Collective was inspired by the tremendous success of similar interactive art spaces around the country, and their pop-up installations are a taste of the permanent experiential/interactive space that is planned for this region. More than simply art that one looks at to take in, the BEYOND Collective's installations invite you to play and engage in multi-sensory ways, even contributing to community-made creations during your visit! "Our creations inspire imaginative engagement and the artist in all of us."
http://seebeyond.art
Lead Artists: Doug Shire and Laurence Clarkberg
Journey Beyond Time Contributing Artists:
Aala Al-Hashimi
Mara Alpert
Duncan Anderson
Kristen Anderson
Angelina Blasich
Tony Bond
Lost Cat
Tico Chango
Allen Cosgrove
Gwendelyn Daniels
John Fuchs
Lily Gershon
Karl Gesslein
Caleb Harrington
Michael Heath
Savan Karamardian-DeSouza
Kaylyn Kilkuskie
Wendy Marvel
Cameron Nelson
Seth Palmer
Vickie Jo Patro
Joshua Pisano
Cai Quirk
Elsa Quirk
Victor Rakovich
Mark Rosen
Elizabeth Sciore-Jones
Norm Scott
Phoebe Shalloway
Judith Swann
Damaris Vazquez
Scarlett Vinson
John Walsh
William Weaver
Theo Whitley
Annemarie Zwack
SPECIAL HOURS
Open Wed-Fri 5-9
Sat and Sun 12-9
Closed Mon and Tues