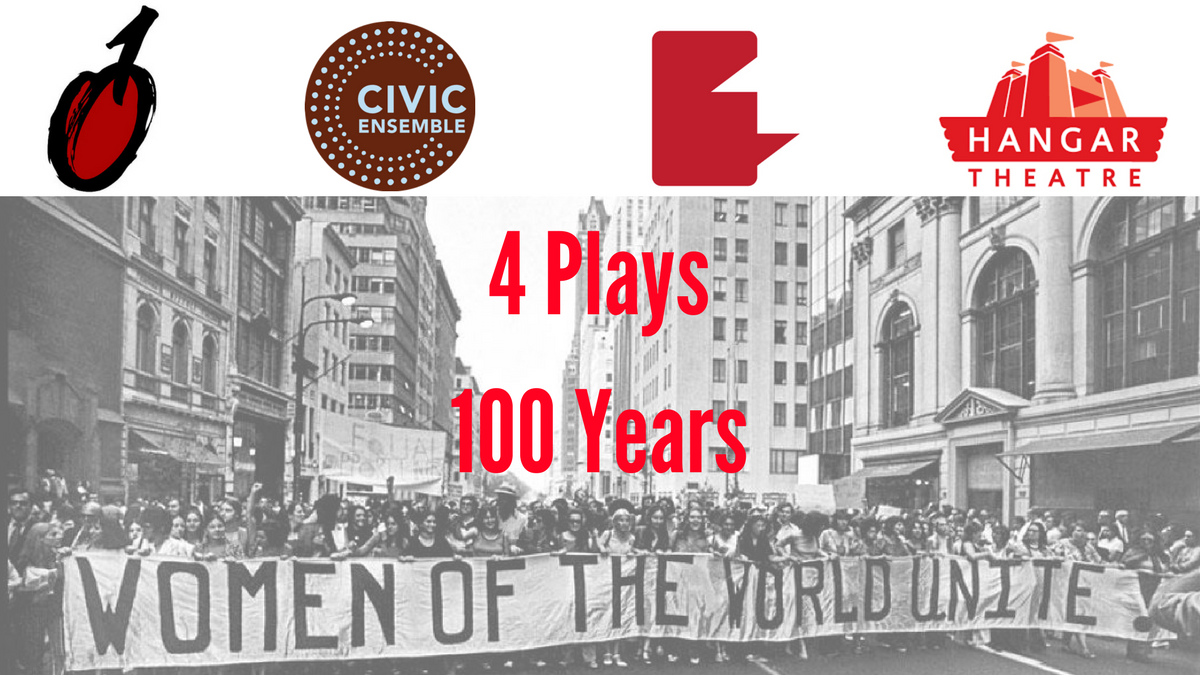 To celebrate the 100th Anniversary of New York State signing of woman's suffrage into law, four of Ithaca's theatre companies are collaborating on a two-night theater event: FOUR PLAYS – 100 YEARS.
Presented by: The Cherry Arts, Civic Ensemble, the Hangar Theatre, and the Kitchen Theatre Company.
Tue. May 16 & Wed. May 17 @ 7:30pm
at the Kitchen Theatre Company
417 W. State St. / MLK Jr. St.
Ithaca, NY
All four plays will be performed each night. There will be a post-show discussion following each performance. The project is supported in part by a grant from Humanities, NY and each of the theaters.
Proceeds from ticket sales will be donated to Women's Opportunity Center, Ithaca, NY.
THE PLAYS:
MARCH ON! by Fengar Gael w/ anthem music and lyrics by Sheilah Rae, directed by Courtney Young. Actors: Cynthia Henderson, Jennifer Herzog, Effie Johnson and Erica Steinhagen (all appearing courtesy of Actors' Equity Association)
MRS. SATAN & THE NASTY WOMAN by Alice Eve Cohen, directed by Rachel Lampert. Actors: Cara Bachman & Kristin Sad
IN THE PARLOUR by Judy Tate, directed by Beth Milles. Actors: Sylvie Yntema and Honey Crawford
MAY/ISABELLA/JO, a triptych of monologues:
"LessonS for my Daughter" by Aoise Stratford, w/ Darcy Rose
"Don't Dream" by Saviana Stanescu, w/ Camilla Schade
"Esopus" by Lyrae Van Clief-Stefanon, w/ Jordan Pesci
There will be a post-show discussion after each performance with artists from all four companies.
The May 16th post-show discussion will be facilitated by Sara L. Warner (Stephen H. Weiss Junior Fellow; Director of Graduate Studies; Associate Professor, Associate Professor of Performing and Media Arts. Warner is a core faculty member in the Feminist, Gender, and Sexual Studies Program and an affiliate faculty member in LGBTQ Studies, American Studies, and Visual Studies.)
The May 17th post-show discussion will be facilitated by Dr. Chrystyna Dail (Assistant Professor, Department of Theatre Arts; Faculty, School of Humanities and Sciences. Dail teaches Introduction to Theatre, History of the Theatre I and II, U.S. Social Activist Performance: History and Praxis, and the Theatre Studies Capstone in the Department of Theatre Arts.)
Tickets are $10-$20.
Tickets are available by calling (607) 272-0570 or on line here or in person at the Kitchen offices (409 W. State St.) Monday-Friday, 10:00 AM-6:00 PM and at the theater (417 W. State St.) Saturday-Sunday, 12:00-4:00 PM.