Ryan Dickson
Producing Intern, January-May 2017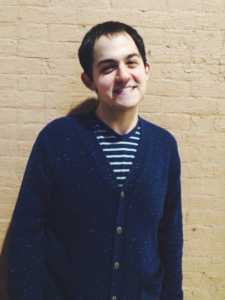 School:  

Ithaca College, Class of 2018, Theatre Arts Management (B.S.) 
Hometown:  

Schenectady, NY
Favorite aspect of theatre to work on:  

I love working on all aspects of theatre because it makes you a better theatre practitioner. It allows better collaboration with other artists, and it helps you gain appreciation for everybody's role in a production.
Theatre artist inspiration:  I have two people who inspire me in the world of theatre, Cameron Mackintosh and Diane Paulus. Cameron Mackintosh has produced many mega-hit musicals, such as The Phantom of the Opera, Les Miserables, and Miss Saigon. He inspired me to go into theatre management because I want to become a successful producer like he is. Plus, two of my favorite musicals were produced by him. Diane Paulus is the artistic director of the American Repertory Theatre (A.R.T.) in Boston, MA. Paulus and A.R.T. have great views surrounding an audience member's experience at the theatre. A.R.T. is also one of my favorite regional theatres.
Project most proud of:  One production I am proud to have worked on is The Last Five Years by Jason Robert Brown. It was the first studio musical done at Ithaca College, and I produced it. It caused a lot of stress, took a few years off my life, but it was exhilarating. I want to produce musicals one day, and this show emulated what my future will look like. I also worked with such a great group of students in the theatre department, and it allowed us to create such a great piece of theatre. 
Dream Job: 

I want to produce a musical on Broadway.