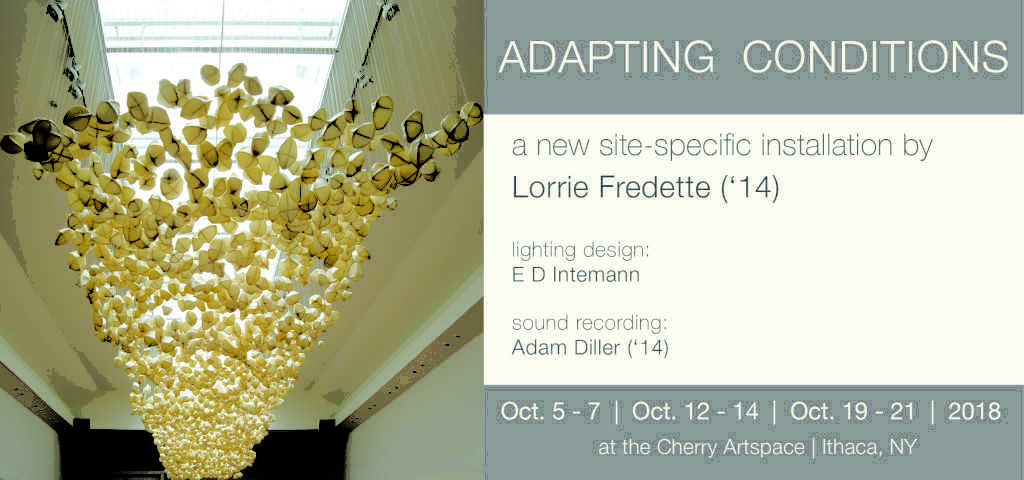 Saltonstall alumni exhibition
Saltonstall presents Adapting Conditions, a brand new site-specific installation by alumna  Lorrie Fredette ('14) at the Cherry Artspace in Ithaca, NY.
Opening: Friday, October 5, 5:00 – 8:00pm
Special preview + Saltonstall fundraiser
Thursday, October 4, 5:00 – 8:00pm
See the installation before everyone else and support Saltonstall at the same time!
Please join us at the Cherry Artspace (102 Cherry Street in Ithaca) for a special ticketed preview and fundraiser for Saltonstall featuring artist Lorrie Fredette and her never-before-seen installation.
Enjoy delicious offerings from Saltonstall's chef Mandy, who'll be bringing The Good Truck — her food truck! Wine, non-alcoholic beverages, other tasty treats, and a few surprises are also on the evening's menu.
Tickets are just $35.00, or two for $60.00
Experience this special evening with us, celebrate Lorrie's brand new site-specific work, and support the only arts colony dedicated to serving New York State artists and writers.
Exhibition dates & location
Dates: Fridays, Saturdays, & Sundays: October 5 – 7  |  October 12 – 14  |  October 19 – 21, 2018
Hours: 5:00 – 8:00pm (sound recording repeats every 60 minutes)
Location: the Cherry Artspace: 102 Cherry Street, Ithaca, NY (.6 miles behind Wegmans)